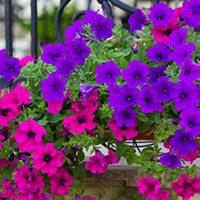 It's the end of winter, the days are getting longer, and the cold nights and short days are finally over. The promise of spring has arrived.
Perennials are mother nature's gift that just keeps on giving. Plant perennials once and they return year after year.
The right tree can serve many purposes for your home's landscape or garden. They can be used as barriers from wind and noise.
It's been said that a well placed shrub is the foundation of any garden or landscape. Shrubs can anchor the overall design and aesthetic of your garden.
There's nothing like the taste of a fresh, home grown tomato…or a sweet cucumber salad…and we've been told a vegetable garden is the most rewarding garden experience of them all.
"Some people are always grumbling because roses have thorns. I am thankful that thorns have roses." The scent, the color, the texture…and even the thorn. There's nothing quite like a rose.
Hilltop Gardens sells beautiful custom pots ready-to-go already planted, or have our talented gardeners custom design one for you.
Tropical and indoor plants are a great way to brighten up a room. We can help you select the right plant for your home and lifestyle.
The yearly tradition of selecting the perfect Christmas tree with your family is one of the best memories you can make and give your kids for the rest of their lives.